Return to Headlines
Students recognized for overcoming extraordinary challenges
SUNNYVALE, CA — March 15, 2017 – Families, teachers, and administrators came together March 15 to celebrate students for overcoming extraordinary challenges and demonstrating unwavering resilience and leadership.
Eight Sunnyvale School District students and four Fremont High School Union District students were recognized at a special ceremony through the Association of California School Administrators' (ACSA) Every Student Succeeding program. The purpose is to recognize students at all grade levels who have achieved success in the face of difficult challenges, which may be related to school, family, medical, or difference in ability and the educators who supported them along the way.
Every student who was nominated received a certificate as well as a gift card from a local establishment. In addition, one student advanced to Region 8 of ACSA (Santa Clara County) for consideration of recognition at the region level. The student may then receive recognition at the state level. Cupertino High School's Sachit Nagella was announced as that student at the event.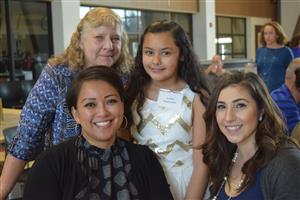 Ashley Maldonado, Bishop Elementary:
Maneuvering through social and academic situations can be difficult for all children but for a child with ADHD, it can be an uphill climb. When students first come to Kindergarten, they are expected to sit and focus for small periods of time. As students enter first grade, they are expected to sit for longer periods of time- to focus and complete tasks. Recess comes and the student needs to be able to navigate different social situations with limited adult help. Every day at school was a different adventure for Ashley. How to handle the social problems that come up? How to sit for a long period of time, start on a task, stay focused and complete the task? How to organize her stuff so she could find it the next time? How to be able to cope without getting discouraged, without becoming angry with herself?
Ashley is a very resilient, happy, persevering child with a supportive family. Her family, teachers, and school administrators, along with herself, became Ashley's team. Ashley brainstorms with people on her team about different scenarios and more effective ways to handle situations. She sets goals for the week- they can be social, organizing or academic. Ashley talks with members of her team about what worked, what was a challenge and what she would change, then puts a plan into action. Ashley asks questions, brainstorms or talks about social situations she needs help understanding or finding the right way to handle each different situation.
Ashley has come a very long way in being able to maneuver through different academic and social situations with her peers. She is well on her way to be able to articulate her needs as well as listen to her peers. Ashley's happy, persevering personality along with the different strategies she has learned, help her to achieve academic progress, social success and personal growth as an independent leader.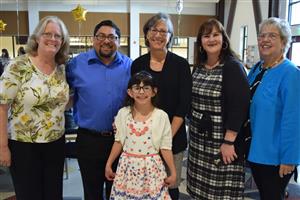 Isabel Hernandez Gamberg, Cherry Chase Elementary:
Small in stature but large in heart, Isabel Hernandez Gamberg charms all who meet her at Cherry Chase Elementary. Now in 5th grade, Isabel was nominated by principal and ACSA member Anita Lee with enthusiastic encouragement from current and former teachers. Despite the effects of Turner's Syndrome, a condition which necessitated open heart surgery as an infant and which requires ongoing treatment that can impact her day-to-day schooling, Isabel maintains her positive attitude, thinks creatively and dramatically, and encourages others throughout the day. We are delighted to honor her with this nomination.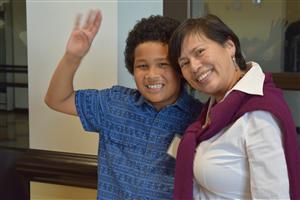 Fetalaigatuaiselelei Afuola, Cumberland Elementary:
When we first met Fetalaigatuaiselelei in 2013, he was a swirling tyke full of energy and motion. He proudly introduced himself as "Feta, like the cheese." Feta started his school career in Sunnyvale's PreK special education program for language delays and was exited from special education this year. With hard work and positive attitude, Feta has made huge breakthroughs with his reading and writing skills. He went from reading below grade level to above grade level and has developed social skills that endear and charm everyone he meets. When you are with Feta, you can't help but smile and believe again in the good in humanity.
Maritza Maldonado, Lakewood Elementary:
Maritza is a 5th-grade student at Lakewood Elementary School, nominated by Pam Cheng, principal, and ACSA member. She is also supported by Alex Ha, Maritza's teacher, and Stefanie Clark, CHAC counselor. During her first few years in school, Maritza struggled academically and social-emotionally. Wanting to make friends, but unsure of the best way, Maritza wrestled with her self-confidence and her role in school. After a critical behavioral incident, she was referred for counseling, and in Maritza's own words, "made a decision" to change. This year Maritza has received positive recognition for her work, her positive peer relationships, and has had no referrals. She has become a role model in class, and her first trimester benchmarks show accelerated growth as a result of her hard work. Maritza's change in engagement and effort at school, along with her academic growth, illustrate the power of a growth mindset.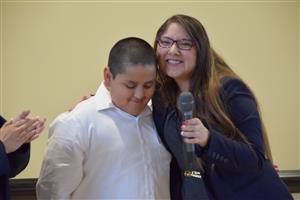 Lorenzo Zapata, San Miguel Elementary:
Lorenzo Zapata is a 5th-grade student in a Special Day Class at San Miguel Elementary School, nominated by Veronica Galvan, classroom teacher, and Christina Ballantyne, principal. In his early years, Lorenzo struggled with low self-confidence as a result of challenges in school for so many years. Now as a 5th grader in a Special Day Class, Lorenzo has proven to be a leader by being the only one in the class in recent years to participate in the Playworks Junior Coach program and to join the San Miguel Wrestling Team. Lorenzo, like many students, has areas of strengths and areas where he continues to grow. He is making huge strides toward bettering himself and has the capability to effect positive change at home, at school and in his community at large.
Gabriel Ortiz, Vargas Elementary:
Gabriel (Gabe) Ortiz has been in the Sunnyvale school district since kindergarten. He loves to spend time with his friends and loves to do science inquiries. Gabe is excited to do all science activities from his kit that he got for Christmas. He has the dream of becoming a YouTube star with his friends when he grows up. Gabe enjoys being a young scientist at Vargas because he has made many friends who are also interested in Pokémon and YouTube.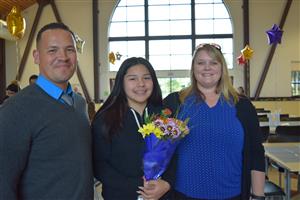 Kimberly Velazquez, Columbia Middle School:
Kimberly Velazquez is a 7th-grade student at Columbia Middle School, nominated by ACSA member MaryBeth Allmann, principal, and supported by Esteban Ybarra and Daniel Poo, both ACSA members, as well as Gladys Mazariegos, a social worker. When Kimberly moved to the Sunnyvale School District at the beginning of 6th grade, we learned that she had not had a very successful elementary experience. She was habitually truant, was far behind her peers academically, and often engaged in high-risk behaviors. While we saw some of this carryover at the beginning of her 6th-grade year, Kimberly has made significant gains in all areas with support from her administrators, social worker, counselor, and special education team. This year she has no unexcused absences, no discipline referrals, and has made a year's worth of reading growth in only three short months. She is making positive decisions, seeking help when needed, and has a new sense of purpose. We are extremely proud of how Kimberly continues to overcome barriers to reach her goals!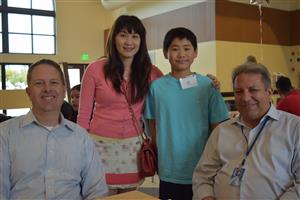 Jalen Chow, Sunnyvale Middle School:
Jalen Chow is currently an eighth-grade student at Sunnyvale Middle School. Before attending SMS, Jalen struggled in elementary school with managing his emotions and articulating his feelings and needs. With support from many educators, Jalen learned how to address those issues. His perseverance resulted in steadily improved progress in attendance, behavior, and academics all the way through middle school. Jalen is a student with high academic potential and a determination to succeed. He is a model of perseverance for every student and represents the idea that success is just around the corner for all students. Jalen Chow deserves to be recognized for his personal growth, which has enabled him to achieve academic success.
ACSA is the largest umbrella organization for school leaders in the United States, serving more than 17,000 California educators. ACSA's top priority is advocating for public school students in kindergarten through grade 12, as well as adult learners. Its mission is to be the driving force of education in California and beyond.