Return to Headlines
Students plant new trees in celebration of California Arbor Week March 7-14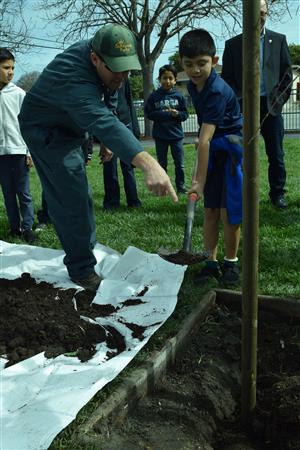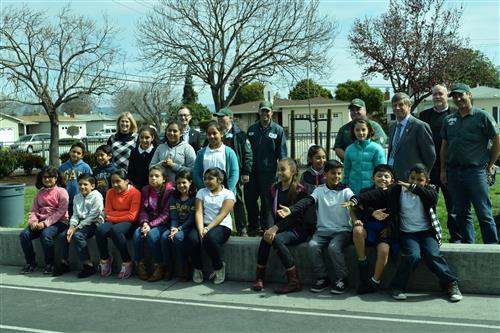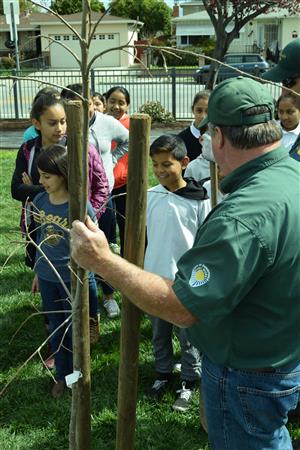 "Grow! Grow! Grow!" were the words of encouragement fourth and fifth graders at San Miguel Elementary imparted upon a young Valley Oak tree they helped plant as a way to honor and celebrate California's Arbor Day March 7.
San Miguel Student Council and City of Sunnyvale Officials helped plant the tree in the kindergarten play yard with the additional help of Sunnyvale Mayor Glenn Hendricks and Vice Mayor Gustav Larsson.
California's Arbor Day is celebrated on March 7, in honor of famed horticulturist Luther Burbanks's birthday – as well as the Sacramento Tree Foundation's 35th anniversary. Arbor Week ran from March 7 through March 14.
Eight 6th, 7th and 8th graders from Sunnyvale Middle School's Garden Club continued to celebrate Arbor week by planting two of their own Valley Oak tree on March 8 just outside of their tennis courts. Both plantings were coordinated by the Sunnyvale Urban Forest Advocates and the City of Sunnyvale.
Leonard Dunn, Sunnyvale Urban Landscape Manager, told the children about the meaning of Arbor Day and who Luther Burbank was. He introduced the Latin names for the trees, Quercus lobata, and explained how these names would be understood by an arborist in any country in the word. He also mentioned that they were deciduous. He also asked students about the value of trees for our environment.
"It was encouraging to hear that the children knew their value and what they do for the environment and for anything which breathes," said Deborah Marks, a volunteer with Sunnyvale Urban Forest Advocates, or SUFA.
Students were emboldened when they were told they can visit these trees later in their lives and explain to their children and grandchildren that they had helped to plant them.
This is the third year of tree planting with the city for SUFA.
"I'm always encouraged when children express an interest in trees and a desire to see them thrive," Marks added. "It's an assurance that our urban forest will have stewards in the future."
Members of SUFA joined by volunteers marked the end of Arbor week by planting 30 street trees in the parking strips in the San Miguel neighborhood on March 11.